---
Indonesia Missions Update
---
STL Ministry Update January/February 2021
Ministry Update - STL (Shine the Light)
            2020 was surely been an interesting year for all of us that we would have never imagined yet the Lord has been faithful in delivering us into the next year. We are not sure what the Lord has for us this year and it could be as the apostle Paul puts it Acts 20:23b-24 "chains and tribulations await me but none of these things move me; nor do I count my life dear to myself, so that I may finish my race with joy, and the ministry which I received from the Lord Jesus, to testify to the gospel of the grace of God."
            We want to give thanks, praise and extol our Lord and Savior Jesus Christ for the miraculous works He has done in our ministry throughout 2020 and into 2021. Stories and pics below will be to share the what the Lord is currently doing and how you all can be praying for us in our ministry partnership together as His light to the Gentiles and salvation to the ends of the earth, in our case Indonesia. Indonesia is the southern tip of the continent of Asia and from the Geographical standpoint of Israel, the West including the US one of the Ends of the Earth. Our current main areas of ministry are in is Bali, Timor, Jakarta and Java.
            Below are pictures of the of some of the ministries that are going on that we appreciate prayers for.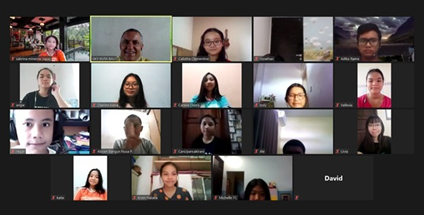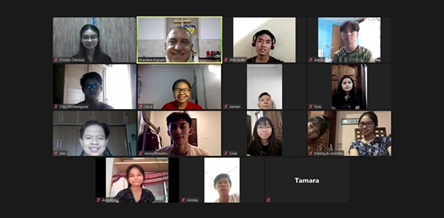 The two pictures above are of our Junior High and High School online weekly Bible Studies going verse by verse through the Book of Genesis one chapter per week. Since the pandemic we have seen such an amazing work that the Lord has done in the Youth through these weekly verse by verse Bible Studies. On average there is about 25-30 kids that attend each and we are amazed at the work the Lord is doing in their lives through these Bible Studies. We go through one chapter a week and before we start, they memorize one verse that they recite and they prepare a verse or a passage that they study using IBS and then after the teaching through the Chapter is finished, they break into groups where they share what they got from their study and from the teaching. Then then recite the verse and share prayer requests and pray for one another. Many of them are sharing that they have never been so excited about the word and how incredible it is to dig into God's Word and then share it with others.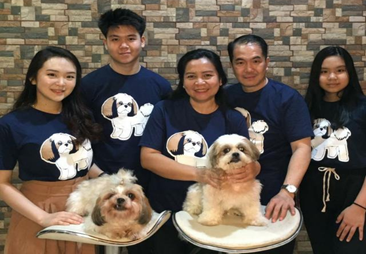 Above is a picture of Pastor Gabriel and his family. Pastor Gabriel is our main partner in Indonesia and he is currently pastoring a church 1,500 people in Jakarta which according to Bloomberg will be the most populated city in the world in 2030. God has given Pastor Gabriel an incredible opportunity to oversee this Church since early 2019. He has been taking the entire congregation verse by verse through Books of the Bible and he has seen an amazing growth and excitement about studying God's word from his congregation.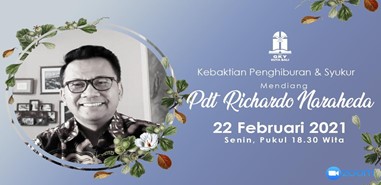 This picture of above is Pastor Richardo who has served in our Church since 2011 and was just recently called home to with the Lord on January 22nd. He was a great brother in the Lord who served faithfully in the ministry that the Lord entrusted to Him and finished the race and entered into the eternal presence of the Lord at 54 years old.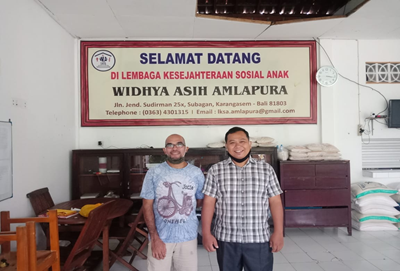 This is Yohanes and Yudi. Yohanes has been with our ministry the longest, since Febraury 2005 and God has grown him into a man of God who is being used in a special way now pastoring one of the largest churches in East Bali which is an area that is a Hindu stronghold. Yohanes is serving in the largest Denomination in Bali and has given him an opportunity to make an impact in the denomination by shepherding the flock through verse-by-verse teaching and also truly caring and nurturing them which is sadly rare within this denomination.
            Yudi is from a Hindu background and when Yohanes was still serving full time in our ministry he would travel monthly to the orphanage that Yudi lived at 2 hours drive in North Bali to disciple him by teaching him through the Bible. Overtime Yudi completed committed his life to the Lord and is now the head of an orphanage that is part of the same denomination that Yohanes serves in and God placed them on the same property and their houses where the Church and Orphanage are located are right next door to one another, it is so incredible how God put them together as a ministry to strengthen and sharpen one another. The orphanage has 18 Hindu kids that they are in the process of leading to the Lord but with sensitivity because of the culture and restrictions by the Government.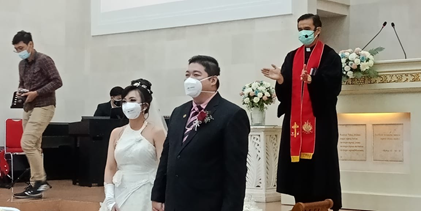 This is William and Christin who just got married on the 20th of February. William teaches at one of the only Christian High Schools in Bali and also serves at our Church on the weekends. William and I serve together in youth ministry, I oversee the junior and high school and William the College and career ministry. The Lord has blessed our ministry together and also given me an opportunity to mentor William in his new ministry role and now in his marriage. He has also been a great blessing for me in fellowship and strengthening one another in giving feedback on sermons etc. He is a powerful preacher and I call him the Charles Spurgeon of Indonesia.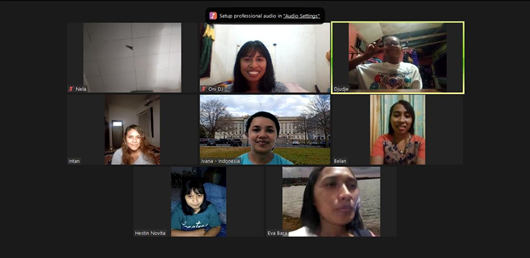 We want to give praise to the Lord that He has opened the door for us to start our a women's Bible Study that started on the 25th of February. The Bible Study is led by Oni who is attending CCBC Dumaguete online and also helping out with the Shine Fellowship while she is in Kupang.
PRAYER REQUESTS
Pray for Randy, Debbie and family in the states. For the Lord's protection and blessing upon their lives
Pray for Brandon, Yunita and family in Indonesia. For the Lord protection as well and also continued anointing and wisdom
Pray for the shepherding of the youth group in Bali and continued growth and protection for each of the kids as they grow together in the weekly Bible study
Pray for Gabriel and family. For the Lord's protection and anointing. He specifically asked for prayers for the new elder board being chosen this March, for protection as he and his family take the mandatory vaccine and also for direction in approaching the elder board about our family moving to Jakarta to work with Gabriel in shepherding the flock there as well as evangelistic outreach
Pray for the family of Richardo in this time of grieving. His wife Cynthia and also his son Cinema
Pray for Yohanes and Yudi as they serve the Lord together and oversee the Church and orphanage. For the Lord's continued hand of blessing and protection upon them
Pray for William and Christin as newlyweds and that the Lord will continue to bless and direct William in his ministry at the Christian school as well at the Church in the youth ministry
Pray for woman's Bible Study. For an anointing upon Oni and also for all the women that she is mentoring. That the Lord will protect and bless this ministry to be long term and be able to reach out to more and more women in Kupang and beyond
---
Bordeaux Room
27535 Jefferson Avenue
Temecula