---
Indonesia Missions Update
---
STL Ministry Update July 2021
Ministry Update - STL (Shine the Light)
STLI MINISTRY UPDATE & PRAYER REQUESTS JULY 2021
Shalom my dear friends in Christ,
We are so thankful to the Lord for His faithfulness to in sustaining us through out this crazy time in the that we are going through in the world right now. Thins are very intense right now as Indonesia has had one of the highest daily number covid cases of any country in the world. Our Church in particular has been hit very hard especially in the Metro Jakarta area and there have been quite a few deaths among our Church members and family members.
Although all this is happening, we are also seeing God's hand working though opening up doors for ministry and souls come into His kingdom and also more and more believers being discipled through online ministry.
Below I will share some testimonies about what the Lord is doing also prayer requests.
My wife Yunita is from a Buddhist background but over the years we have see the Lord in her family in miraculous ways. We prayed for her dad for over 5 years and 2 months before he died, he accepted Christ in a miraculous way and then was baptized 2 days before he died. Her mom also accepted Christ and was baptized a few years later and now we are able to disciple her on a regular basis and she is connected to a thriving Church in Jakarta. Yunita's little sister Nana recently visited us and we felt that she might not yet truly know the Lord. We invited her to join our evening family Bible study but at first, she did not want to join but after a few nights of being pressed to join by our daughter Joy she eventually started to join. On the last night before she left, we had a Gospel invitation and she accepted Christ. She returned to Jakarta filled with Joy and their family starting doing night devotions.
One of our Church members in Bali is named Hadi. He has a longtime friend from Bali named Steve. Steve has not known or walked with the Lord over the years but Hadi had a burden for Steve so we started to pray for Steve and soon he started to ask Hadi all kinds of questions about the Bible. Pretty soon we were able to buy him a word for today study Bible and send it to his house. We have been able to send him regular daily audio and written devotionals through the Bible and he really growing in the word and asking all kinds of questions.
Anthony is a member of our church in Bali and has been a really good friend and brother in Christ over the years that we have been in Bali. For a while Anthony has been sharing that he is concerned about his mom's eternal destiny along with the rest of his family till point of weeping when they share. Being a traditional Chinese from the older generation she has not been open nor has she understood the Gospel seeing Christianity as a religion for westerners. After praying for months, the Lord opened a door for us to share the Gospel with her over a whatsapp video call. I was able to share the Gospel in Indonesian and Anthony translated it into Hokkian dialect. After we shared, she said she wanted to accept Christ and we prayed with her over the phone. It was truly a joyous moment to her accept Christ and also see the joy in her face after she prayed to receive Him as Lord and Savior as you can see in the pic below left.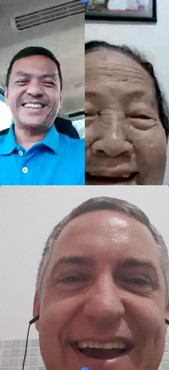 The picture below is of the housing complex where our house is in Bali where we have lived since the Lord called our ministry back from Kupang to Bali in in 2015.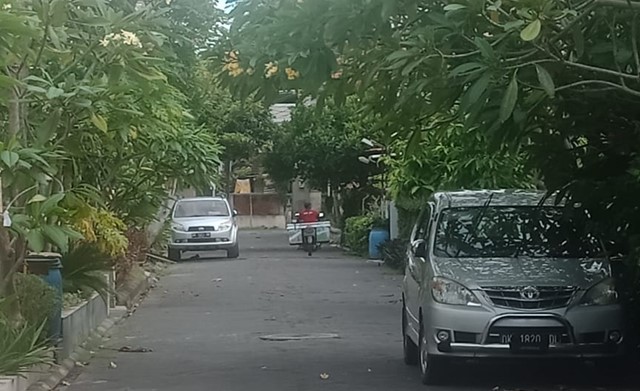 God has opened us evangelistic doors for us in the complex where we have people from all the 6 accepted religions of Indonesia and we are stilling laboring in prayer for more open doors as we also feel resistance and also some spiritual oppression. We feel such a burden for these people and the Lord has laid on our hearts is to walk through evangelistic doors He is going to open up in this housing complex.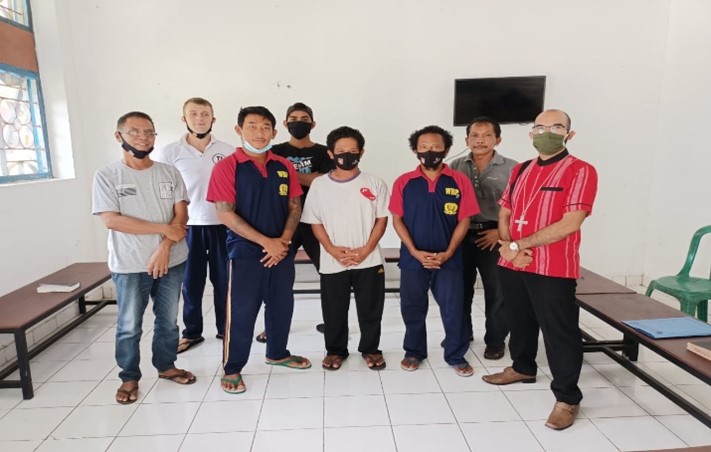 The picture above is of Pastor Yohanes doing a prison ministry in East Bali where he pastors the largest Church among the Balinese denomination in the County of Kareng Asem which is a Hindu Stronghold. The picture below left is a Balinese Hindu who has an offering plate placed on the front of his raft before going out into the ocean.
The Balinese are very steeped in the traditions and the mysticism of their religion and it is part of their culture, life and entire society. The people of Bali is still considered an un reached people group and we are asking the Lord for an outpouring of His Spirit upon the Body of Christ to share the Love of Christ with the Balinese people who are suffering more and more because of this pandemic.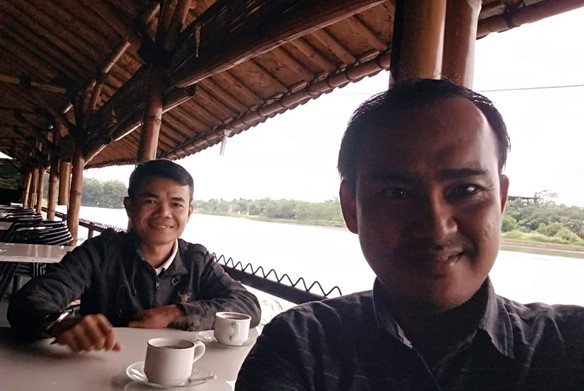 In the picture above on the left side is a man named (name omitted for safety reasons). He is a missionary that our church supports and is based in West Java . The man on the right is named (name omitted for safety reasons) who accepted Christ under our ministry but is still in secrecy because of the dangers of revealing his faith in Christ to his family. (name omitted for safety reasons) is able to disciple (name omitted for safety reasons) as well as share the Gospel among the (name omitted for safety reasons) people under the covering a small barber shop. (name omitted for safety reasons) can be very radical and it there is quite a lot of persecution that goes on including the closing of many Churches and it a very hard people group to penetrate
PRAYER REQUESTS
STLI: Please pray for Pastor Randy and Debbie as well as their family and also for Brandon, Yunita and family that the Lord will continue to bless and protect them all and continue to use and bless the STLI ministry for His glory and use this ministry to reach and shepherd many souls for His Kingdom.
SHINE FELLOWSHIP: Please pray for Beny, Peter and Oni our team in Kupang. Pray that the Lord will bless and anoint them in the shepherding ministry that the Lord has called them to do in teaching, discipleship and outreach that is going over there. Please also pray for Oni going through the CCBC program online as well the woman's Bible study that she oversees.
PANDEMIC: Please continue to pray the Lord's work among the hearts of the Indonesian people who are suffering through sickness and death and that the Lord will use this pandemic to magnify His glory and that more and more Indonesians will come to know His love through this situation. Please also pray for all the believers around Indonesia that the Lord would strengthen them and there is a refining process that is happening among the Body of Christ
JAKARTA: Please pray for Pastor Gabriel, his family and also the Church Body in GKY BSD that He shepherds. Pray that the Lord will continue to bless, use and anoint Pastor Gabriel for His glory in shepherding the flock of 1,500 church members that the Lord has entrusted to him. Pray for his kids in school and university as well as for protection and health for them. Pray also for Edmond and his family that the Lord will bless and strengthen his marriage and also for their kids' growth in the Lord. Pray for Dr Sessy who is in the middle of a crisis there in metro Jakarta because the hospitals are overloaded and she is just getting over covid right now
EVANGELISM: Pray for (name omitted for safety reasons) and his outreach ministry to the (name omitted for safety reasons) as well as for (name omitted for safety reasons) and his growth in the Lord. Pray for Nana, Steve and Darmi that have accepted Christ into their lives and that they will continue to grow in the Lord and have a strong foundation in Christ. Pray for our outreach ministry to our housing complex called Pedungan Indah and that the Lord will open up doors for us to share the Gospel, one man in particular named Pak Wirka. Pray also for evangelistic doors in Bali for the Gospel to go out to the Balinese Hindus and people from all different religions.
BALI: Pray for Pastor Yohanes and family. That the Lord will bless and protect them and continue to anoint and his Yohanes' life to shepherd the flock entrusted to him. Please also pray for Pastor Yanto and his entire family who has contracted covid as well as about 25 other Church members who have it now.
YOUTH GROUP: Pray for our youth group ministry. We have had a weekly Bible study going verse by verse through books of the Bible since pandemic started which has caused the kids to grow more since the pandemic than in times past and we see it as a spiritual revival that God has done in their lives in their growth in the Lord and hunger for studying His word as well as being able to minister to and disciple others. Right now, we are preparing to change the groups and the leaders as many of the leaders have graduated and are entering College and also those from Junior High have entered High School. Please pray that the Lord will give our team wisdom in choosing the leaders as well the new groups would be according to His will.
---
Bordeaux Room
27535 Jefferson Avenue
Temecula